Eid ul Adha, also known as the "day of sacrifice," is the most significant Islamic holiday and is celebrated by Muslims all over the globe. Given that this is a ritual animal sacrifice, the quantity of flesh on your table is reasonable. If you are looking for the healthiest barbecue dishes for Eid ul-Adha, you have come to the right place!
In every situation, health comes first. However, people must pay more attention to this during holidays and festivals. The same is true for Eid al Adha. During the days of Eid ul Adha, consuming fatty foods, more meat, piquant cuisines, and other unhealthy foods increases the risk of numerous health conditions. But if you consume wisely and adhere to healthy recipes, you can remain healthy and still enjoy the meat on Eid ul-Adha.
Top 6 Healthiest Barbecue Dishes for Eid ul Adha:
Muslims are preparing for the upcoming Eid-ul-Adha holiday. There will be a lot of food to supply the homes, as well as animal sacrifices. Everyone loves preparing traditional dishes such as grilled steak or lamb, kababs, tikka, and boti. Nowadays, everyone should prepare some of the most well-known Bakra Eid or Eid-ul-Adha barbecue recipes. They are not only tasty but also relatively easy to prepare.
Barbecue Beef Steak:
Without the anticipated beef Steak, a barbecue serves no purpose. At most barbecue gatherings, it is the centerpiece of your table.
The recipe is straightforward and can be served alongside nutritious vegetables.
Ingredients:
Tri-tip beef steak 4
Vinegar 2 tablespoons full
Oil 3 tablespoons
Mustard 2 tablespoons
Rosemary 2 tablespoon
Pepper ½ tablespoon
Soy sauce 2 tablespoons
Garlic paste 1 teaspoon
Grounded red pepper 1 teaspoon
Step-By-Step Recipe:
Prepare a charcoal or gas grill for direct flames. A charcoal grill will require approximately 40 minutes to attain medium heat, while a gas grill will require nearly 10 minutes.
Utilize a sharp knife to diagonally slice the outer margin of the fat on steaks per inch. Avoid slicing the sirloin, as this will cause the liquids to evaporate, leaving the beef dry.
Combine all of the above ingredients in a basin and mix them properly. Then, add beef steak to the prepared marinade and marinate it thoroughly.
Refrigerate the beef for margination for 4 to 5 hours.
Place the steaks on the grill and cook for 4 to 5 minutes, or until they are golden and lightly seared. Grill the steaks for an additional 8 to 10 minutes, or until they reach 150 degrees Fahrenheit for medium-well.
Gola Kabab:
Gola kabab is another healthy way to eat meat. This recipe can be prepared with both lamb and beef. The kababs are bursting with the flavors of various seasonings. Try this healthful barbecue recipe on Eid al-Adha.
Ingredients:
Mutton/Beef Mince – 500 grams
Cumin Seeds- 1 Teaspoon
Whole Red Pepper – 8
Coriander Seed – 1 Teaspoon
Gram Flour – 1.5 Tablespoon Full
Garam Masala Powder – 2 Teaspoons
Red Chili Powder – 1 Teaspoon
Coriander Powder – 1 Teaspoon
Black Pepper Powder – ½ Teaspoon
Ginger Garlic Paste  – 2 Teaspoons
Brown Onion – 1 Tablespoon
Salt – 1 Teaspoon
Raw Papaya Paste – 2 Teaspoons
Fresh Coriander (Hara dhania) – Few leaves
Oil – 2 Teaspoons
Step-by-Step Recipe:
In a pan, mix whole red peppers, cumin seeds, and coriander seeds.
Toast it until it is flavorful. Then eradicate it!
Add gram flour to the pan and gently heat. Remove it as soon as it acquires a light brown color. To prevent scorching, continuously stir the gram flour.
Put flavorful spices and gram flour into the grinder.
Add Garam masala, chile, coriander, and black pepper powders.
Blenderize all of the ingredients to create a powder.
Now add the minced mutton or beef to the grinder.
Add salt, raw papaya (as a tenderizer for the meat), Gola kabab masala, and fresh coriander.
To make a smooth mixture, grind the meat with all the other ingredients.
Take the meat out of the grinder at this time, then put it in a bowl.
Add 2 teaspoons of oil. It will aid in the smooth preparation of kababs and ensure that they are juicy after Grilling.
Make a tiny rounded ball out of the meat you just took in your hands.
Punctuate the kabab with the tool to create a hole.
Grill and set up a barbecue.
Gola Kababs are ready.
Read More:  Upcoming Cultural Events in the UK 2023
Bihari Boti:
Bihari Boti is one of the most popular dishes in Pakistan and all over the world, particularly during barbeque nights, Eid dinners, and family nights out.
Bihari Kabab/Boti comprises thin beef slices marinated in a homemade, spicy masala and smoked over coals. They are traditionally broiled over charcoal but can be grilled on a pan.
Ingredients:
Beef 2 kg
Mustard oil four tablespoon
Yogurt 1 cup
Onion fried 1 cup
Papaya 2 tablespoons
Garam masala powder two teaspoons
Coriander powder two teaspoons
Red chili whole 50 grams
Cumin 50 grams
Coconut powder 50 grams
Poppy seeds ground 50 grams
Salt 2 teaspoons
Black pepper 1 tablespoon
Carom 1 tablespoon
Allspice 1 tablespoon
Nutmeg/mace ½ Teaspoon
Step-By-Step Recipe:
Grind cumin, red chilies, carom, nutmeg, and mace.
Add salt, papaya paste, red pepper, powdered coconut, ground poppy seeds, and all spice powder and combine thoroughly.
Add thinly sliced chopped meat (undercut), fried onions, lemon juice, papaya paste, and oil, and mix well.
Finally, thread them onto skewers and Barbecue or grill them.
Serve with chutney and salad.
Kaleeji Tikkah:
The liver/Kaleeji of the sacrificed animal is highly robust. It contains many nutrients that can be consumed on the blessed occasion of Eid ul-Adha. On this Eid, you can enjoy Kaleeji Tikkah on the grill.
Ingredients:
Mutton liver – ½ kg
Ginger garlic paste- 1 tablespoon full
Salt to taste
Chili powder-1 teaspoon
Crushed red pepper- 1 teaspoon
Turmeric- ½ teaspoon
Lemon juice – 1 tablespoon
Thick yogurt -125 grams
Cumin powder- ½ teaspoon
Oil – 2 tablespoons
Step-By-Step Recipe
Cut a liver weighing half a kilogram into a fine cube shape. Marinate the liver cubes in ginger garlic paste.
Add 1 teaspoon of chili powder, 1 tablespoon of lemon juice, and 125 grams of thick yogurt.
Add 1 tsp of finely chopped red pepper, 1/2 teaspoon of turmeric, and 1/2 teaspoon of cumin powder.
Now stir in 2 tablespoons of oil.
Add 4 to 5 kaleeji cubes on each skewer, and cook over hot coals until done.
Serve the kaleeji tikka with salad and chutney.
Turkish Adana Kabab: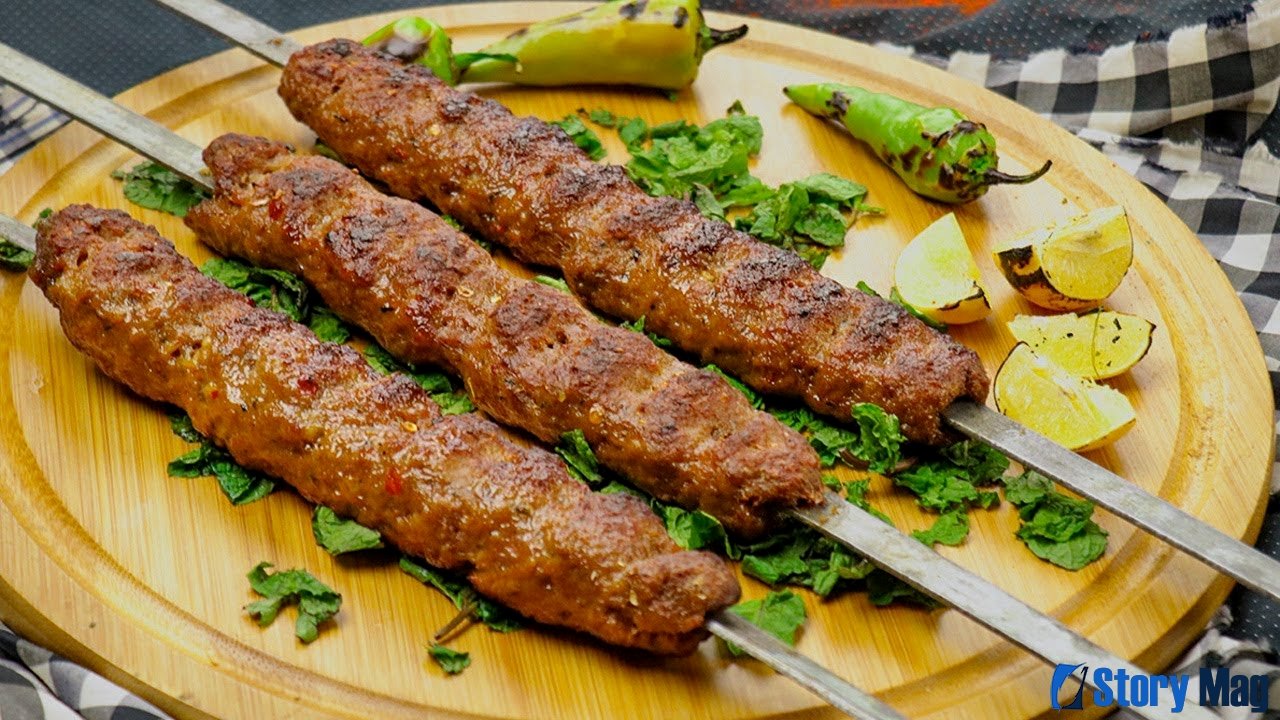 Various kinds of kebabs are prevalent in Turkish and Middle Eastern cuisines. This version, named after the Turkish city of Adana, where it is believed to have originated, typically consists of skewered, charcoal-roasted lamb mince. Try this simple and nutritious dish on this Eid ul Adha barbecue evening.
Ingredients:
1 pound ground lamb
One small onion, minced
Four cloves garlic, minced
1 1/2 teaspoons ground cumin, divided
1 1/2 teaspoons ground sumac, divided
1/2 teaspoon salt
1/4 teaspoon ground black pepper
1/4 teaspoon red pepper flakes, or to taste
Two tablespoons of ice water
Step-By-Step Recipe:
Mix the ground lamb, minced onion, garlic, one teaspoon of powdered cumin and sumac, salt, ground black pepper, red pepper flakes, and ice water in a large mixing bowl.
Hand-knead the mixture until it becomes sticky and begins to adhere to the bowl's side. Chill for about 30 minutes in the refrigerator.
Soak your palms in water and thread one-fourth of the lamb mixture onto each skewer. Using a 1-ounce scoop, inserting a few balls onto each skewer, and then mashing them together to form the kebab shape is straightforward.
Preheat the grill or flames to a temperature of medium-high.
Combine the remaining 1/2 teaspoon of powdered cumin and sumac in a small bowl.
Twelve minutes on the grill or until both sides are beautifully browned. Sprinkle the remaining spice mixture over the skewers as they cook on the grill.
If desired, garnish the kebabs with lettuce leaves, red onion slices, parsley, tomatoes, diced cucumbers, and heated pita or naan bread. Appreciate this simple Turkish cuisine!
BBQ Lamb Chops
Indulge in the exquisite flavors of tender grilled lamb chops marinated in a tantalizing blend of olive oil, garlic, dried herbs, and spices. This delectable dish offers a harmonious fusion of aromatic rosemary and thyme, accented by a touch of smoky paprika. As the lamb chops sizzling on the grill, they develop a mouthwatering charred exterior while maintaining their juicy and succulent texture.
Ingredients:
8 lamb chops
2 tablespoons olive oil
2 cloves garlic, minced
1 teaspoon dried rosemary
1 teaspoon dried thyme
1 teaspoon paprika
Salt and black pepper, to taste
Lemon wedges, for serving
Step-By-Step Recipe
Preheat the grill to medium-high heat.
In a small bowl, combine the olive oil, minced garlic, dried rosemary, dried thyme, paprika, salt, and black pepper. Mix well to create a marinade.
Place the lamb chops in a shallow dish and pour the marinade over them. Rub the marinade all over the chops, ensuring they are evenly coated. Let them marinate for at least 30 minutes to allow the flavors to penetrate the meat.
Once the grill is hot, place the lamb chops on the grates. Cook for about 4-5 minutes per side for medium-rare, or adjust the cooking time based on your desired level of doneness.
While grilling, baste the lamb chops with any remaining marinade to enhance the flavor and keep them moist.
Remove the lamb chops from the grill and let them rest for a few minutes to allow the juices to redistribute.
Serve the grilled lamb chops hot, garnished with lemon wedges on the side. They pair well with roasted vegetables, rice, or a fresh salad.
Enjoy your delicious BBQ lamb chops!
Tips For The Healthiest BBQ Recipes On Eid ul Adha:
To make your Eid ul Adha meal healthier, include more nutritious dishes. You can add salads, lemonades, and chutneys to your table to add flavor and nutrients.
Add a meat tenderizer, such as uncooked papaya paste, to make your barbecued meat more tender.
Add lemon and vinegar to your meat to tenderize it.
Add ginger-garlic paste to facilitate the digestion of flesh.
Add salad composed of fresh vegetables as a side dish.
You can sauté or grill vegetables such as onion, tomatoes, maize, and peppers to accompany grilled/BBQ meat.
To digest the meat, consume lemonade rather than cold beverages.
FAQs
How can we stay healthy on Eid ul Adha 2023?
The healthiest method to celebrate Eid ul-Adha is to control portion sizes. Avoid sugary beverages and desserts. Consume meat in moderation and pair it with a salad comprised of vegetables. Try to ingest meat grilled or barbecued rather than in fatty dishes.
How to make BBQ healthy on Eid ul Adha?
This Eid ul Adha, make your BBQ meal healthier by including mashed potatoes, salads, chutneys, corn on the cob, lemonade, mint beverages, and whole wheat bread in addition to the BBQ meat and grilled dishes.