I reviewed the best Apple Watch models to assist you in selecting the right one for health and activity tracking, as well as quick access to various information and applications.
Since five years ago, Apple Watch has been the most famous watch brand in the world. If you purchase one for the first time or upgrade, it can be challenging to determine which model is best for you, given that it is now available in more than five variants. I will assist you in selecting the best option from the available alternatives based on my hands-on experience and extensive testing.
While the Apple Watch began as a slightly more sophisticated fitness tracker than a Fitbit, it has consistently evolved into a comprehensive health monitoring device and a convenient tool for quick access to information and apps.
It can now check your heart rate, hold your boarding pass for a flight, identify a nearby song, open your garage door, warn you when it's about to rain, and guide you through breathing exercises when you become stressed. These are merely a few examples.
All of the best Apple Watch models listed below can perform these actions. They differ in sizes, designs, colors, prices, and other features in the most expensive models.
Select the Best Apple Watch For You
Since the first model launched in April 2015, I've worn an Apple Watch every day and tried virtually every version since. I've used and tested the various Apple Watch models to manage text messages, hike long trails, run numerous smart home apps, exercise with Apple Fitness Plus, monitor the daily weather, manage cooking timers, remind myself of essential tasks, and much more.
Based on years of testing, my pick for the best Apple Watch is the Apple Watch Ultra due to its large display, 24-hour battery life, and emergency siren. Find out the best Apple Watch model fit for you by reading on.
Here are The best Apple Watches of 2023
Apple Watch Ultra
Apple Watch Ultra specifications: Display Size: 49mm | Battery Life: Up to 60 hours | Capacity of Storage: 32GB | Features: Sturdy titanium case and sapphire crystal face, enhanced safety features including a built-in siren, dual-frequency GPS, functions up to 100 meters underwater
The Apple Watch Ultra provides a more extended collection of unique features than any other Apple Watch model. As soon as it was released, it became the new flagship model, and it's the watch to buy if you want the finest features the Apple Watch has to offer.
The most notable and valuable difference between the Ultra and other Apple SmartWatch models is the Ultra's more extensive, brighter, and flatter screen, which makes it much better for viewing images texted to you, typing short responses to texts, seeing alerts from home security cameras, interacting with apps such as smart lights, checking the weather, and navigating directions from map apps, among other things.
The screen is 49mm compared to 45mm on the largest Series 8 model, and the brightness is 2000 nits, twice as brilliant as the Series 8's 1000 nits.
The screen is protected by a sapphire crystal face and a titanium casing, significantly increasing its wear and stain resistance. It is also dustproof to IPX6 standards, waterproof to 100 meters (328 feet), and military-grade (MIL-STD 810H) certified for durability. In addition, it can now withstand high altitudes, impacts, vibrations, and temperatures ranging from -4 to 130 degrees Fahrenheit. It's not completely indestructible, but it's close.
The Ultra also includes a larger battery that easily lasts 24 hours (and can get up to 60 hours of life in low power mode), a programmable Action Button with a variety of workout and adventuring functions (it can also simply activate the flashlight), dual-frequency GPS that can overcome interference from mountains and skyscrapers, and dual integrated speakers that are significantly louder for taking phone calls, playing music, or interacting with the touchscreen.
The Ultra also includes the cellular option, an additional $100 for the Series 8. This enables the watch to make phone calls and connect to the internet even when your iPhone is not nearby (you'll need to add this feature with your cellular provider for about $10/month).
Beyond that, the Ultra has the same health and security features as the Apple Watch Series 8, with the addition of an emergency siren that emits an 86-decibel sound pattern that can be heard up to 600 feet (180 meters) away when activated by holding down the Action button. This can be useful if you become disoriented or injured while hiking, encounter wild animals, or are attacked.
At $799, the Ultra is twice as expensive as the Series 8 basic model. If you plan to keep your smartwatch for three to five years, use your current Apple Watch consistently to interact with apps and look up information, or if you are clumsy or in situations where the watch could be damaged, the Ultra could be an excellent choice.
✅ Pros
Larger and more useful screen
Over 24-hour battery life
Super durable
Emergency Siren
❌Cons
Too big for small wrists
Double the price of the base Apple Watch Series 8
Apple Watch Series 8
Apple Watch Series 8 specifications: Display size: 41 or 45mm | Battery life: Up to 36 hours | Storage capacity: 32GB | Features: New safety features including emergency SOS and collision detection, new temperature sensor, and women's well-being features, extended battery life, and all of Apple's best health sensors
The Series 8 Apple Watch can now monitor activity, steps, heart rate, respiratory rate, blood oxygen (lung function), wrist temperature, sleep, and environmental noise levels (to protect hearing). And it employs algorithms and machine learning (a.k.a. artificial intelligence) to identify potentially hazardous patterns and alert you to seek medical attention. There are now numerous accounts of people whose Apple Watch health alerts have saved their lives. Adding a temperature sensor to the Series 8 benefits women's health and cycle monitoring.
Apple describes accident Detection as using upgraded motion sensors and "an advanced sensor-fusion algorithm trained on over 1 million hours of real-world driving and crash data" to detect if a severe crash has occurred. Apple Watch Series 8 now automatically contacts emergency services in the event of a severe accident. This is an expansion of the Fall Detection feature, initially introduced in 2018. Connecting to satellites, the Series 8 can communicate with emergency services via text messages when there is no cellular signal and the wearer is lost or in peril in a remote area.
Suppose you want the latest health sensors and safety features and improved battery life (especially if you want to track your sleep), and you don't need the extreme features in the Ultra. In that case, you can save a lot of money by purchasing the aluminum Apple Watch Series 8 aluminum model for $399 (or $529 if you get the larger 45mm model and include cellular connectivity). If you want the more durable stainless steel finish (starting at $699), I recommend skipping the Ultra and going directly for it, as it comes with many more features for $100 more. One possible exception is if you have a lower wrist.
✅ Pros
A full array of health sensors
Increased battery life
Satellite SOS
Crash detection
❌Cons
Fewer color options than Series 7
Cellular connectivity costs extra
Apple Watch SE (2nd generation)
Apple Watch SE Specifications: Display size: 40 or 44mm | Battery life: Up to 18 hours | Storage capacity: 32GB | Features: Most affordable Apple Watch, family set up for children and seniors, health and location monitoring, and fall and crash detection.
What's remarkable about the Apple Watch SE (2nd generation) is how many of the Series 8 and Ultra's health and safety features it contains. It is simpler to discuss what is excluded from the SE. It does not monitor blood oxygen levels, perform ECG cardiac checks, or measure body temperature. It is not dust-resistant, and the glass face is not composed of crystal, so it is not as resistant to cracking as the Series 8. While the exterior is identical to the Series 8, the screen is approximately 20% smaller, resulting in slightly broader black bezels. It lacks an always-on display as well.
However, it does not include cellular connectivity, a $50 add-on for the SE (compared to a $100 add-on for the Series 8). Like the Ultra and the Series 8, adding a cellular connection will also cost you about $10/month with your wireless carrier. However, even if you select for the cellular model and choose the larger 44mm Apple Watch SE over the smaller 40mm model, you will still only pay $329 for the SE.
Using Apple's Family Setup makes it an ideal smartwatch to give to someone without an iPhone, such as a minor or an elderly relative. With cellular connectivity, the Apple Watch can transmit and receive phone calls, receive text messages, dictate responses to text messages, and connect to online information such as the weather. And you can configure it from your iPhone if they are your Apple family group members.
If you connect an elderly relative with health issues, the Series 8's additional health sensors may make the upgrade worthwhile. Similarly, if you are trying the Apple Watch for the first time and are unsure if you need the most advanced health sensors, the Apple Watch SE is a beautiful place to start.
✅ Pros
Family Setup for kids and older adults
Health and location tracking
Fall and crash detection
Very affordable
❌Cons
Not as durable as other Apple Watch models
Cellular connection requires a monthly fee
Apple Watch Series 7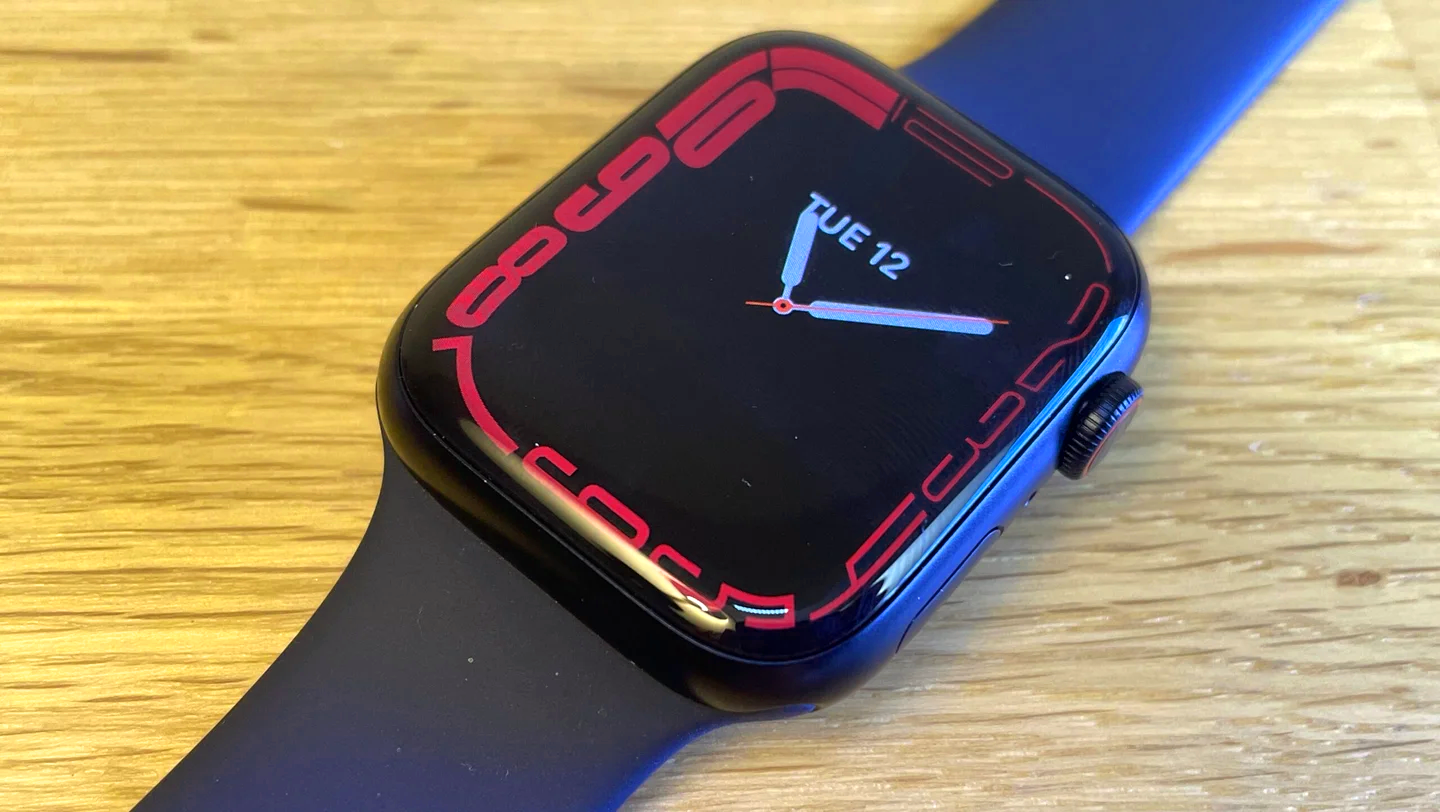 Apple Watch Series 7 specifications: Display size: 41mm or 45mm | Battery life: Up to 18 hours | Storage capacity: 32GB | Features: Large display, quick charging, health-oriented features, more durable than SE
The Apple Watch Series 7 debuted in the autumn of 2021 with a 20% larger display, rapid charging (0 to 80% in 45 minutes with a USB-C cable), a crystal face that is 50% thicker and 20% more durable than the previous model, and IPX6 dust resistance. Those are features that are still unavailable on the second-generation Apple Watch SE.
With the SE currently dominating the entry-level Apple Watch market, it is advisable to consider the Series 7 over the SE. If you want a low-cost entry into the Apple Watch ecosystem and a simple purchase, you can purchase a new SE and start immediately.
A new Apple Watch Series 7 costs virtually the same price as the Series 8, so it's much better to get the Series 8. On the other hand, you can locate a refurbished Series 7 for $200 to $250 on websites such as BackMarket and RefurbMe.
There are currently very few compelling reasons to purchase the Series 7. The first is whether you want the additional health features (heart and lung monitoring) for an Apple Watch you're giving to an elderly relative, and the second is whether you want the extra durability for an Apple Watch you're giving to a child. Apple no longer offers the colors green and blue for the Series 8, whereas the Series 7 is available in both. However, if you purchase a Series 7, I recommend buying a refurbished model.
✅ Pros
Comes in unique blue and green colors
It is a good deal if you buy a used or refurbished
Has most of the latest health features
Water, dust, and crack resistant
❌Cons
Buying one new is virtually the exact cost as Series 8
Shorter battery life than Series 8
What is the best Apple Watch model?
The Apple Watch Ultra has the most cutting-edge features, whereas the Apple Watch Series 8 has all the latest health features at a more affordable price ($399).
How did I Select these Apple Watch models?
Since the product's launch in April 2015, I have worn an Apple Watch daily and upgraded virtually every year. I have assisted family, friends, and neighbors in determining if the Apple Watch was appropriate for them, purchased the best Apple Watch models for my children and elderly relatives, and advised the best times and locations to buy. I am intimately familiar with the current array of Apple Watches and have compiled this list based on the following criteria.
Display size: Apple Watch displays are now available in three sizes: 40/41, 44/45, and 49. Depending on the size of your wrist and the extent to which you want to interact with the watch for fast actions, the display size will play a significant role in determining the optimal model.
Features: Apple adds incrementally more features to the Apple Watch each year; therefore, we compared safety features, health sensors, band options, battery life, and other useful options.
Pricing: Because each Apple Watch is available in various configurations, prices can vary significantly — mainly depending on the band you choose. We have included budget-friendly options under $249 and premium options over $1,000.
FAQS
Do you need an iPhone to use an Apple Watch?
Yes, an iPhone is required for Apple Watch configuration. However, with all of the models on this list, you can use the Family Setup feature to have one iPhone set up watches for multiple members of your Apple family group who do not have an iPhone. You cannot configure an Apple Watch with an iPad, a Mac, or a non-Apple smartphone.
What are the best Apple Watch alternatives?
Consider several excellent alternatives if you purchase an Apple Watch or wish to remain in the Android ecosystem. Our recommendations for the best Apple Watch alternatives are founded on extensive testing by StoryMag Staff.