Flight tracker websites allow you to monitor an aircraft from when it takes off until it reaches its destination. We enjoy using flight tracking sites for several reasons, whether waiting for someone or traveling.
Flight Tracker Websites
A website that tracks flights enables you to view up-to-date flight schedules, including delays and weather, check where you (or a friend) are in the air in real-time, and discover parking deals with some plane tracker apps to avoid airport parking bottlenecks.
These are used to trace another person's flight, as well as to view air traffic in the area or monitor airport congestion.
The Best Flight Tracker Websites and Apps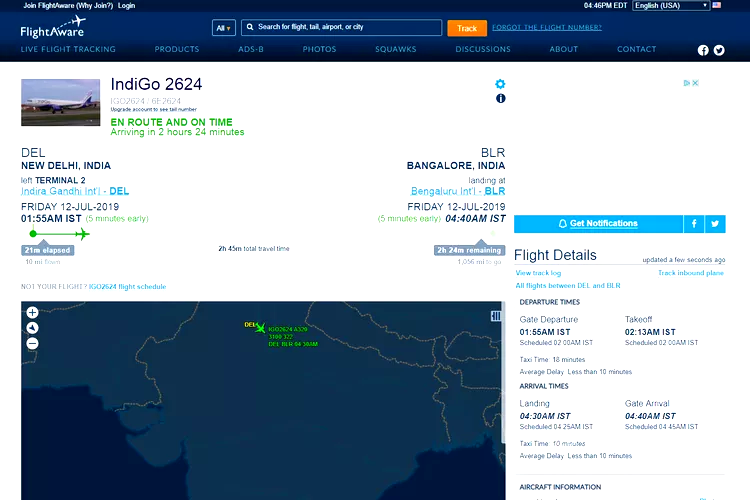 FlightAware is one of the finest online flight tracker websites because of how much detail it goes into.
You can find a specific flight by its flight number or perform a general search using the origin and destination airports, which is useful if you don't know the flight number or want to see all the aircraft moving in and out of those airports.
The search results can be filtered by flight type, status, airline, departure day and time, arrival day and time, alliance, and even aircraft.
After selecting a specific flight to track, you will have access to a wealth of information, including:
A progress gauge displays the time required to travel from one gate to the next, including local times.
The previous flights of the airliner.
On a map, the filed, actual, and estimated flight path.
A report detailing the flight path of the aircraft, including coordinates.
The typical time required for a transport to reach the airport.
You can enroll an acquaintance in-flight notifications so they will receive email updates as the flight progresses. They will be notified when the flight plan is filed, when it departs and arrives, and when the flight is delayed, canceled, or diverted.
The FlightAware airline tracker also provides information on flight cancellations and delays. On their MiseryMap, flight cancellations are also visually represented.
This plane tracker also features a live flight tracker for every aircraft. Scroll the map to view all the airliners currently in flight, and click on any of them for more information.
FlightAware can be accessed via their desktop site or their mobile app.
✅ Pros
Lots of ways to find flights.
Tons of helpful information.
Easy to use.
Sign up someone else for email alerts about your flight.
❌Cons
All the information might be overwhelming.
Some features require a premium account.
Flightview allows users to monitor flights by route or by flight number. If you know the flight number, you can quickly locate its details or search airports and departure dates to find the flight number.
This site gives flight-related information is straightforward and to the point. View the departure and arrival airports, estimated travel times, airport information (such as parking, delays, and the weather), and local services such as limousines.
Flightview Live is a large map that displays the current location of the aircraft. On the map are the flight path and fundamental information about the flight, including the departure and arrival times, aircraft type, altitude, and airliner speed.
You can forward your itineraries to a unique email address, and the flight details will be automatically inserted into your account, allowing you to track flights anywhere. This requires registering for a free user account.
You can access a mobile Flightview site or download their mobile app to use it on your mobile device.
✅ Pros
Locate flight numbers.
View a live flight map.
Lets you send flight information to them via email.
❌Cons
Poorly designed website.
Lots of ads.
FlightArrivals is the Swiss Army Knife of Flight Trackers available online. There are numerous flight-finding and -tracking features despite the website's less-than-attractive appearance and likely excessive number of advertisements.
This free plane tracker app provides commercial and general flight data access. Enter the flight number and airline or the tail number for available aviation flights, followed by the departure date to obtain additional information about a flight.
You can also use this online flight tracker to find flights arriving at specific airports, flights between two airports, airport delays, airport maps, route maps to particular airports, seat maps, aircraft model information, airline information, and numerous flight-related statistics.
✅ Pros
Several ways to find flights.
Tons of flight-related material.
❌Cons
Stale website design.
No mobile app.
The flight map doesn't refresh automatically.
Lots of ads.
FlightStats is another method to track flights from all over the world. In addition to flight information, this site provides customized map overlays, airport weather conditions, and airport delay maps. You can monitor specific flights in real time or randomly bring up a flight.
FlightStats displays flight information wonderfully, but several features are absent or require payment. Some online flight trackers, for instance, provide free departure and arrival information, flight alerts, and historical queries. Paying for FlightStats unlocks these features and an ad-free experience.
✅ Pros
Attractive website design.
Easy-to-use flight tracker.
Search by route, flight, or airport.
❌Cons
Flight alerts aren't free.
Displays ads.
Must pay for other features that are free in similar trackers.
FlightRadar24 is a tremendously interesting website that allows you to view live air traffic on a map. Select any aircraft indicators to view the most recent departure and arrival times, aircraft type, and altitude.
Instead of sifting through the map, you can locate a specific flight in the search box at the top of the page. Enter any flight number to find the plane instantaneously on a map.
In the map settings are some options you can customize, such as changing the map style, modifying the brightness, changing the aircraft icon size, toggling on or off types of traffic like gliders and ground vehicles, and more.
If you pay for Flightradar24, you can access additional features, flight details, and map options, such as flight alerts, weather and other map labels, and complete aircraft details.
Here's how they gather their data:
Flightradar24 incorporates data from multiple sources, such as ADS-B, MLAT, and radar data. A unique flight tracking experience is created by combining ADS-B, MLAT, and radar data with airline and terminal schedule and flight status information.
✅ Pros
Elegant live flight map.
Free mobile flight tracker apps.
Includes basic tracking features.
View the most tracked flights.
❌Cons
Distracting advertisements.
Most map customizations aren't free.
Suppose you have the flight number and airline of the flight you wish to monitor. In that case, you can enter these details into Google for a quick update on the flight's status, arrival time, origin, destination, and terminal and gate information.
Please note, however, that Google obtains this information from the websites listed above.
Note: Using the Google flight tracker differs from the Google Flights service, where you can view a map, track flight prices, and purchase plane tickets.
If you dislike advertisements, try The Flight Tracker Pro. You can monitor any flight worldwide and view departure and arrival details and aircraft and seat maps.
The app effortlessly syncs with a TripIt account while traveling, making it ideal for business travelers. The information can also be preserved and shared via multiple channels, including text and social media.
Push notifications are available for various circumstances, including personalizing a departure or arrival reminder so that you can remember to pick someone up from the airport.
How to Track a Flight in Real Time
If you've ever looked up at a passing plane and pondered where it's coming from and going, it's pretty simple to determine. Thanks to flight monitoring programs, all information regarding any given flight is accessible with a single click (or tap).
Today, many flight sensors provide real-time updates on a plane's location, altitude, and speed and can be used to monitor nearly all commercial, cargo, and military flights. You can use a flight tracker to keep tabs on the plane if you're curious about where your incoming flight is or if you'd like to monitor the arrival of someone you're picking up at the airport.
How does flight tracking work?
Radar is technically still the global standard for tracking flights, but it has many limitations; for example, the majority of the ocean is not covered by radar. A system known as Automatic Dependent Surveillance–Broadcast (ADS-B) is currently being implemented for flight monitoring. "Most aircraft (and virtually all commercial aircraft) are now equipped with an ADS-B transponder that relays its precise position, altitude, and speed to other aircraft and air traffic control every second. According to FlightAware spokesperson Kathleen Bangs, who spoke with Travel + Leisure, this system is significantly more effective than the previous radar-based system. Companies that monitor flights can use global networks of ADS-B receivers to ascertain the worldwide locations of flights.
How to Track a Flight
In general, you can enter any flight number into a flight tracking website or app to view the aircraft's essential information, such as its estimated arrival time, altitude, and ground speed. The specifics vary depending on the tracker you choose. Some less sophisticated flight detectors may only provide limited information, such as departure and arrival times.
FAQs
How do I track my luggage on a flight?
If feasible, sign in to your account on your airline's website and navigate to the Baggage section. Enter your flight information to locate your cargo. Use Smart luggage that can be tracked with a mobile device to avoid losing track of your belongings.
How do I track flight prices?
In addition to Google Flights, sites like Expedia, Skyscanner, Going.com, Hopper, Kayak, Momondo, and Airfare Watchdog can be used to check airfares.
How can I track my flight live?
Flightradar24.com is probably the most well-known company that tracks flights in real-time. But this service doesn't just show you how to track live planes. Besides that, the company has what we think is
the best app for tracking flights.
Is Flightradar24 good?
The Guardian labels the website "authoritative." It is the world's largest ADS-B network, with over 35,000 connected receivers. Over four million users per day track over two hundred thousand flights per day.