In the past, Rockstar would put out a new Grand Theft Auto game almost every year. Right now, there are several new versions of Grand Theft Auto V, so that's a long way off. But we still need to think about the next game, which was just officially announced.
Finally, Grand Theft Auto 6 will be released. After years of leaks and reports (some of which were made up), Rockstar has confirmed that the game is being made and said that an announcement trailer will be out before the end of the year.
So, what do we know about GTA 6? When are you going to play it? How does it compare to the other entries? In what form will it appear? We'll list everything we know about Grand Theft Auto 6 below.
GTA 6 Leaks
There was the biggest leak in Rockstar Games history in the middle of September 2022. It showed an early video of GTA 6. A user named teapotuberhacker posted about 90 video clips on a GTA message board. Some of the videos showed gameplay that was still being worked on.
There were some rough edges on the gameplay footage, but it probably shows the final result fairly well, at least in some ways. There was armed theft demonstrated in the video, as well as animations and even voice acting in some parts. Some fans were upset with how the game looked, even though this footage wasn't meant for the public to see. This started a conversation about leaks in general, which led many makers to share early footage of games that got good reviews.
After the leaks, Rockstar Games admitted that the leaks were real but said the hack shouldn't affect development. Rockstar Games said, "We are very upset that any information about our next game was shared with you in this way."
"Work on the next Grand Theft Auto game will go ahead as planned, and we're still fully committed to giving you, our players, an experience that goes above and beyond what you expect."
The FBI is looking into the accused hacker right now.
After that, an ad for Goat Simulator 3 used some of the secret footage to try to make a funny joke. Take-Two quickly sent a DMCA request to get the ad taken down.
Also, remember that a lot of "leaks" about GTA 6 are fake or just plain wrong. Before you believe anything that was leaked, you should find out where it came from. Dexerto said it's simple to make a fake leak to get people to visit your site.
GTA 6 release date speculation
Rockstar has yet to announce when Grand Theft Auto 6 will come out officially, so it's not clear when it will come out. Many leakers and writers, on the other hand, say it won't come out until at least 2024.
Take-Two, the company that owns Rockstar, agrees with this. Take-Two shared its financial goals for fiscal year 2025 in May 2023. The year runs from April 2024 to March 31, 2025, and the company plans to make over $8 billion in net bookings. To give you an idea, the company made its most money ever last year, with net sales of $5.3 billion. Taking that into account, the company would have to release a huge hit like GTA 6 to make that much money. This could mean that the game will come out between 2024 and 2025.
Now that 2022 is over without a GTA 6 trailer, a 2024 release is out of the window.

A 2025 release is most likely with a trailer dropping this year. pic.twitter.com/j7i44i7rIV

— GTA 6 Trailer Countdown ⏳ (@GTAVI_Countdown) January 3, 2023
Leaker Tom Henderson, who has a good track record and has written about Call of Duty, Battlefield, and GTA, is sure that the game won't come out for at least two more years.
In February 2022, Rockstar said, "We're happy to confirm that active development for the next entry in the series is underway." We don't know for sure how long it's been planned, but it's possible that work on it didn't start yesterday.
According to a July 27, 2022, Bloomberg story, several Rockstar employees think the game won't come out until at least 2024, even though it's been in the works for a long time. The game's development has been slowed down because of a greater focus on healthier work habits and less overtime being needed.
Rockstar removed transphobic jokes from the most recent re-release of GTAV and quietly canceled an online mode called Cops 'n' Crooks after the George Floyd protests. Grand Theft Auto VI will have a female Latina protagonist — the first playable woman in modern Rockstar history

— Jason Schreier (@jasonschreier) July 27, 2022
GTA 6 is allegedly "in development hell," according to a story from Rockstar Mag that DSO Gaming forwarded to us. According to the report, GTA 6's development slowed down after co-founder Dan Houser left the company. The magazine Rockstar Mag says that GTA 6 is the "most chaotic project Rockstar has ever developed." This could seriously delay the game's production, making it come out after the 2024–2025 window.
Is there a GTA 6 trailer?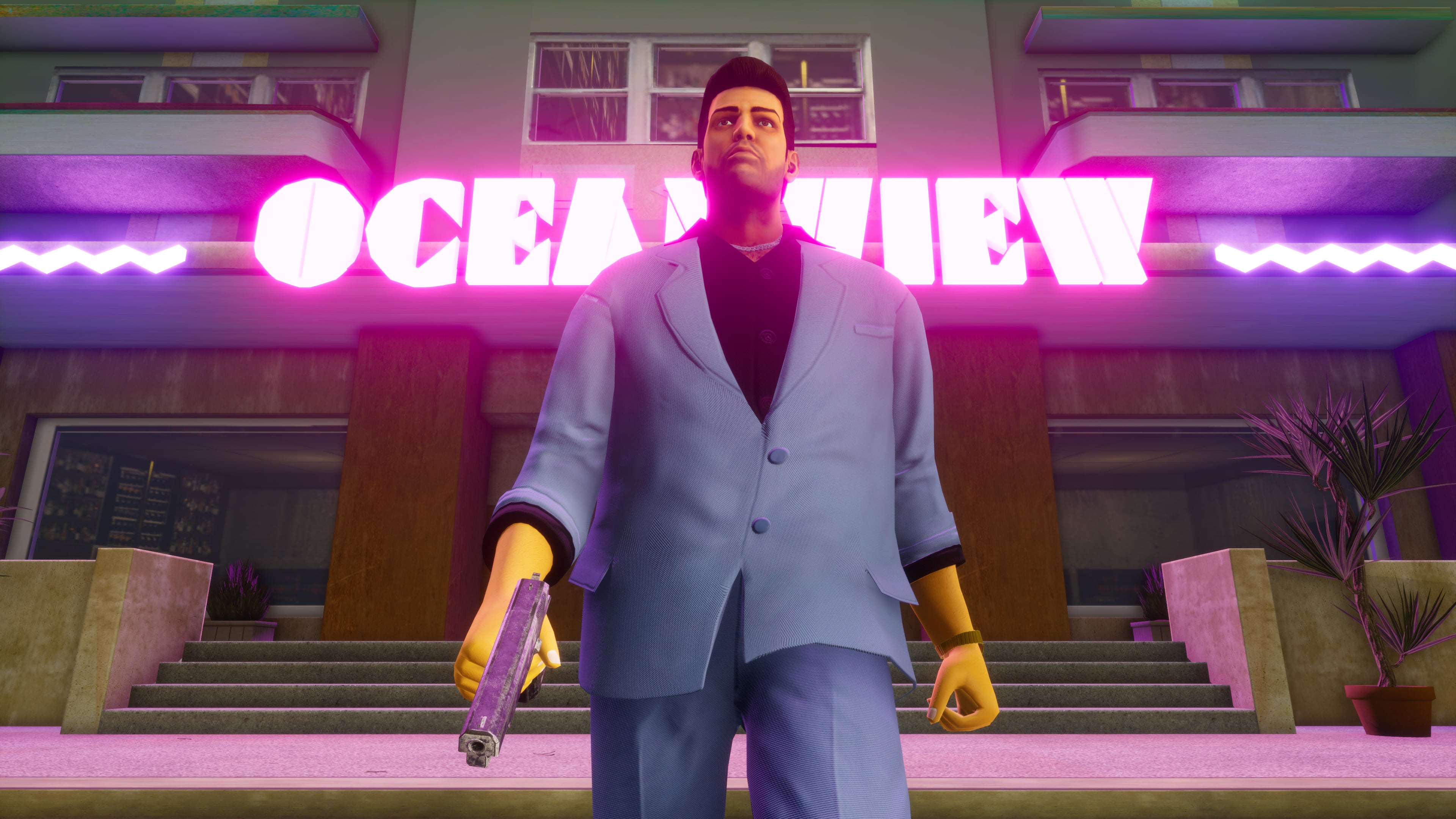 As of now, there isn't a video for GTA 6, but it looks like one will be out in 2023.
Next month marks the 25th anniversary of Rockstar Games. Thanks to the incredible support of our players worldwide, we have had the opportunity to create games we are truly passionate about. pic.twitter.com/YaAxRVfZGe

— Rockstar Games (@RockstarGames) November 8, 2023
The first video for Grand Theft Auto V came out on November 2, 2011, which could tell us when the next game's marketing will start. GTA V didn't come out until 2013, two years after GTA IV. In March 2007, a year before the game came out, the first video for GTA IV came out.
GTA 6 platforms
Based on when the game is said to come out, GTA 6 will probably come out for PlayStation 5, Xbox Series X/S, and PC. Usually, PC games come out after platform games. Since the first PlayStation, at least one Grand Theft Auto game has come out for every version of the console, and we don't see that changing any time soon.
We don't know much about this game yet, but it looks like it will be a big project. Because of this, Rockstar will probably skip the previous generation since the PS4 and Xbox One wouldn't be able to handle it (at least not without making some major sacrifices). Also, it probably won't come to the Nintendo Switch. It might come out for Nintendo's next platform, though, but we wouldn't count on it. Like Hitman 3, Control, and Marvel's Guardians of the Galaxy, there could also be a cloud version for the Nintendo Switch.
What will GTA 6 be about?
GTA has always been about exploring an open world in fast cars and having a lot of activity. With the release of GTA III in 2001, the series changed. It was the first game to be shown in 3D instead of the usual 2D top-down view. After that, GTA Online built on the formula even more, focusing on multiplayer play while keeping all the fun parts of GTA.
It's not clear if GTA 6 will change the model again, but people have high hopes because it's been in the works for so long. GTA 6 may take place in a place you know, like an updated version of Vice City. In any case, Henderson seems to think so. Schreier also says that the map itself could change over time, like in GTA Online, for example.
I dunno I haven't seen everything but it's still early in development, it has an evolving/expanding map (which I also reported last year), etc

— Jason Schreier (@jasonschreier) July 4, 2021
Some people think that GTA 6 will be set in the whole United States, which is a big claim but one that makes sense.
"With every new project, our goal is always to go significantly further than what we've already done," Rockstar said in 2022.
According to a story from July 2022 by Bloomberg, GTA 6 will have the first female protagonist in the series. She will be Latina and work with another character. It looks like this pair will be like the bank thieves Bonnie and Clyde. Also, the company is said to want to be more sensitive to the needs of underrepresented groups. In past GTA games, no group was safe from being made fun of, but it looks like GTA 6 will be much more careful about how it does this.
Leslie Benzies, who was president of Rockstar at the time, told Develop magazine about the series' future in 2013. They said, "We don't know what GTA 6 will be, but we have some ideas." "We have plans for about 45 years worth of things we want to do." We'll pick the good ones. It starts with an idea. The first question is where it will take place. The goals are then clear; in LA, you do different things than in New York or Miami. The story and map are made together. The story is just a general outline of how things go so that you can add the mission on top of it.
In the end, this doesn't give us much to go on, and since the comment was made so long ago, a lot has likely changed since then. However, the team began to think about GTA 6 in 2013, so they have had years to improve their ideas.
It was said that the game would take place in many places in 2022, such as Cuba, Colombia, Vice City, and Carcer City (which you may know from Rockstar's Manhunt series).
Also, customization, player choice, and fast-paced games are likely to be big themes again. We'd love it if GTA 6 had sandbox missions like Hitman 3, where players could choose from a number of ways to complete goals. It would be hard to do this in an open-world game, but Rockstar is the only company that could pull it off. Rockstar will have a lot more freedom to add ideas that make sense now that technology has come a long way. Also, figures from past GTA games should come back, like Claude from GTA III, Tommy Vercetti from Vice City, and Carl Johnson from San Andreas.
Last but not least, GTA 6 will almost certainly be playable in both first-person and third-person modes. This feature has been in GTA V and Red Dead Redemption 2, and since it's so popular, it's likely to be back in the next Grand Theft Auto game.
Armed robberies are likely to be in the game based on the September 2022 footage that was leaked. However, since the footage wasn't finished, it's not clear how this will work in the end product.
Will GTA 6 have GTA Online?
The addition of GTA Online might have been the most noticeable change that came with GTA V. Millions of people (and dollars) came to play this mode, which became the main part of the game. People still play GTA V almost ten years after it came out because of GTA Online, even though the base game is great.
The point is that GTA 6 will almost certainly have some online mode. We don't know if that means the whole game is played online only or if there is a specific multiplayer mode like the last one, but we're pretty sure there will be an online mode.
Given how popular GTA Online was, Rockstar probably won't remove the ability to play with other people from the next game.
Strangely, the GTA 6 version of GTA Online won't have any specialized servers. "Take-Two turned down a proposal for dedicated servers a few years ago," said Tez, who works for the company. They thought it was too expensive for them to do.
Is GTA 6 going to have a DLC?
Two add-on packs for Grand Theft Auto IV are called "The Lost and Damned" and "The Ballad of Gay Tony." These add-ons for single-player games filled out the story and made people want to come back. That's what a lot of people thought would happen with GTA V, but all of the game's post-launch support went to GTA Online instead. Since then, big add-ons like "The Diamond Casino Heist" and "The Cayo Perico Heist," among others, have been added to the online mode.
The point is that GTA 6 will probably get DLC after it comes out, but it's not clear if it will be for single-player, online, or both. We should have a better idea of how the DLC will be released after the game comes out once it's official.
Note that Tez, a GTA insider, is sure that GTA 6 will get story DLC like the additions for GTA IV.
When are you going to be back? As we thought, you can't buy GTA 6 yet. Based on how GTA V came out, you can buy the next game about ten months before it comes out. In November 2012, gamers could buy GTA V.
Games these days are often announced and released very quickly, so Rockstar may use this way to promote GTA 6. In any case, you will only be able to purchase for a short time.be able to pre-order GTA 6?
To stay up-to-date with the latest leaks and information, we recommend following the Twitter accounts @GTA6Intel and @TheftAutoNews.